FREE Shipping on Orders of $99.00 or more. Shipped USPS
Tidaltails® Custom Ball Head Live Bait Jigs .
These are our short shank ball head live bait jigs. This jig is great for beginners to Pro's and has become popular for blackfish, Sea Bass, Porgy. and More.
° Available in 1 - 10 - and 25 Packs
° Forged Duritan Hooks
° Powder coat Finished. Lots of Colors
° Buy them bare paint them with your own colors.




Original Craggy Colored Banana Head Blackfish Jig'z -

1/4

oz with 2x Black Nickel Hooks
Custom Solid Color Banana Style Live Bait Jig's

Sea Bass, Sheepshead, Blackfish, Grouper,
Molded around 2x and 3x H.D Black Nickel Hooks.
Good for fishing jetty's, breakwaters, pilings and pitching into skinny
water or straight drops. Off the shore or by boat. Snag resistant jig. This
jig is great and has become a popular jig for Sheepshead, Tog, Sea Bass
and more.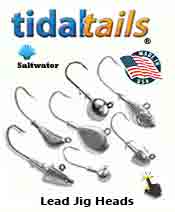 We hand pour all of our jigs with custom molds and use 99.9% Pure Virgin Lead from a foundry. We do not use antimonial or re-melted junk lead in our products.





All of our jigs are true to weight, clean with no dross or flash. They are proudly made right here in the USA.
Available in 2 Pack - 10 Pc Saver Pack and 25 Pc Saver Pack.



| | | | |
| --- | --- | --- | --- |
| | | | |
| | | | |
| Fast Snaps | Seaguar | Berkley Gulp | Curl tail Grubs |
| | | | |
| | | | |
| Big Ball Bucktails | Rapala Hook Outs | AFW Trolling Wire | Tony Maja Prod. |