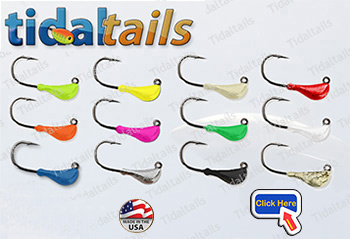 These were our go to jigs prior to introducing our Craggy flat and banana blackfish jig'z. Good for fishing jetty's breakwaters, pilings and pitching into skinny water or straight drops off a boat or kayak. Snag resistant jig. This jig is great for hair jigs, bucktails and has become a popular for blackfish and seabass and Sheepshead.
° Available in Standard - 10 - and 25 Packs
° Cast with No Finish.
° Powdercoat Finished. Lots of Colors
° Buy them Bare
° Paint them with your own colors.

When you are not hunting shallow haunts these jigs work fine. Shallow Water stick with the Original Craggy Color Jig'z.