AFW Hook Extractor - Very useful for removing hooks on Blues and Bass
Pappy Jim's Heavy Duty Hook Remover



For those toothy critters. This is a must for the tackle box.
10" is a safe and effective way of removing hooks or lures without ever touching the fish. Protect your hands from hooks, teeth, and gills. It's the perfect catch and release tool.


Click Image ...
Baker® Hookouts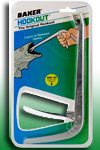 Baker® Hookouts - Standard Zinc Plated

or Stainless Steel.



Lets you reach deep inside fish to remove hooks or lures without danger of fish biting your finger in the process. Simply squeeze the powerful spring loaded trigger to grip and easily remove ingested hook or lure without great harm being done to the fish. Zinc plated for rust resistance even in salt water Length: 9.5 Inch.
Made in U.S.A

Click Image ...
Rapala Hook Outs, Scales and Lip Grips

Rapala Hook Removers.

Designed to quickly and efficiently remove deep set hooks from your catch. Rugged stainless steel construction and rust resistant components. Soft grip handles for secure, no-slip grip. The right size available to match your needs.



Click Image ...
Rapala Scales - 50# Tube Scale

50 lb Tube Scale

Classic style scale upgraded. Anodized housing is lightweight and rust-resistant with stainless steel spring for years of accurate weighing. Stainless steel hook and handle that is coated for soft, secure grip. Marker slide remains at maximum weight, great when weighing a less than cooperative fish.



Click Image ...
Rapala Scales - 50# Digital Scale with Memory
50 lb Digital Scale with Memory

Compact and accurate, our 50-lb. capacity digital scales are packed with features anglers demand. With the unique memory feature, you can also track weight totals.



Click Image ...
Rapala Lip Grips.

Lock `n Grip - sure way to land your trophy.
Proprietary design provides exceptional landings of toothy game while protecting fish and fisher alike.

Click Image ...
Currently out of stock.
Rapala Lip Grips with 25 lb Scale

Lock `n Grip with 25 lb. Digital Scale
A 25-lb capacity digital scale makes catch and release a breeze. Prove your skeptical fishing buddies wrong with a larger weight display that even shows up in photos. A 9-volt battery powers scale for up to 500 hours.
Click Image ...
Currently out of stock..
Lock n Weigh Rapala Lip Grips.

60 LB Lock `n Weigh -
IGFA Record Certifiable
Cam-lock jaws are designed to use the fish's weight to securely hold the fish without causing injury. Fish's weight is shown as you lift it clear from the water. Constructed of high-grade stainless steel, the Lock 'n Weigh® will provide years of service. Wrist lanyard and no-slip handle. Comes with rust preventative oil for routine maintenance.
Click Image ...
Currently out of stock.